The Comores have much to offer as a birding destination: the archipelago boasts no less than sixteen endemics, including such desirable species as Comoro Blue Vanga and the monotypic Humblot's Flycatcher.

Most of the Comoro endemics are forest birds that require a little effort to find. Grand Comore, with its great diversity of habitat (ranging from lush forest on the mid-slopes of the 2361m-high Karthala volcano and forest remants on the northern volcanoes at La Grille, to alpine heathland surrounding the Karthala crater), offers five endemics restricted to this island, as well as a further six endemic to the archipelago. The five Grande Comore endemics, in order of ease of finding, are Grande Comoro Drongo, Grande Comoro Brush-Warbler, Humblot's Flycatcher, Karthala White-eye and Karthala Scops Owl. Endemics that are largely common and accessible on most of the islands are Comoro Thrush, Comoro Pigeon, Humblot's Sunbird, Comoro Bulbul, Comoro Fody and the magnificent Ninga or Comoro Blue Pigeon.
Mohéli also posesses a considerable area of untouched forest spanning its 790m ridge, and here a day's hike is almost certain to produce the superb Comoro Blue Vanga, as well as two further species restricted to this tiny island: Benson's Brush Warbler and Comoro Green Pigeon. A fourth endemic, Mohéli Scops Owl, is predictably harder to find.

Anjouan offers two further endemics - Anjouan Sunbird and Anjouan Scops Owl - or even three if its very distinctive thrush is given species rank. The Sunbird is common even within the grounds of the airport area, and the second very difficult indeed to see. Anjouan has suffered considerably from human pressure, although patches of forest still cling to its spectacularly rugged mountains.
The most gentle topography of Mayotte is dominated by drier, open woodland and forest which support the endemic Mayotte Drongo, Mayotte White-eye and Mayotte Sunbird. Again, all are reasonably easy to find, the last two even commonly at sea level.
For birding, October to December are the best months to visit - before the rains set in in earnest, but when bird activity is still reasonably high.

Please see the links on the right for further information about various aspects of birds, birding and ornithology on the Comores.
Important Taxonomical Note
Please note that the taxonomy of many Comorian bird species is often disputed, and taxa treated as full species by some authors are thought to be merely sub-species by others. This is partly due to the discrepancies between current species concepts and the difficulties of testing the traditional Biological Species Concept in an island context (please click here to read an introduction to modern bird taxonomy and some of the current controversies). Here, when referring to a disputed species we give trinomials and place the disputed specific name in parentheses, followed by the disputed sub-specific/specific name. For example, Kirk's (Madagscascar) White-eye is given as Zosterops (maderaspatana) kirki.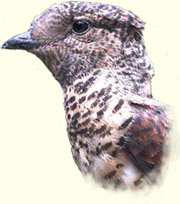 Female Comoro Cuckoo-Roller,
Leptosomus discolor


Photo & Sound Gallery
Mouth-watering photos and sound clips of nearly all the Comoro endemic species and sub-species!
Where to Watch Birds on the Comores
A detailed online guide to the archipelago's best birding, including bird abundances at the top sites.
Checklist of the Birds of the Comores
A complete, annotated checklist, adapted from Louette's standard work.
Birding Resources
Listing and online orders of available literature, trip reports and sound recordings.
NEW! July 2001: Top quality CD of Comoro bird calls now available.
Ornithological Literature on the Comores
A comprehensive list of ornithological literature about the Comores.

---
Text by
Claire Spottiswoode
& Marc Herremans
Site Design by
Claire Spottiswoode
of Birding Africa, Cape Town

---